---
Benefiting Through the Popular Headless WordPress aka Decoupled CMS
Go with the trend in using a Headless CMS for your website! I mean it literally. It is easier, flexible, futuristic, well suited for content based website, plugin supports,builder support and faster page loading. Using a Headless CMS does is long standing since you can easily extend the features.
What does Headless WordPress or Decoupled CMS mean?
Decoupled architecture in website development is on the rise because it gives opportunities for the developers to innovate a design that can be re-invented or reused. Content Management System (CMS) helps you to create and manage content online using sites like WordPress, Magneto, and Drupal.
Any website has a two developments: front-end and back-end. A headless WordPress or decoupled CMS separates the front end and back-end, making it easier to maintain. These headless CMS structures are gaining popularity nowadays. This article is aimed at explaining a headless WordPress site and its features.

Benefits of Using Headless WordPress Site
A headless WordPress site has the above mentioned features. Added to this, the following will explain the significance of it:
Decoupled Front End
 Services via API
Database Security
Decoupled Front End
It has an architecture where multiple front ends can coexist. It is handled in numerous ways from interactive java script to static site generators.
Services via API
Content of the site is easily accessible using website applications. We can use dynamic website applications with the help of libraries like ReactJS, Vue or Angular. It allows the admin panel to manage/edit the content (API) and an HTML view, or front end displays the content.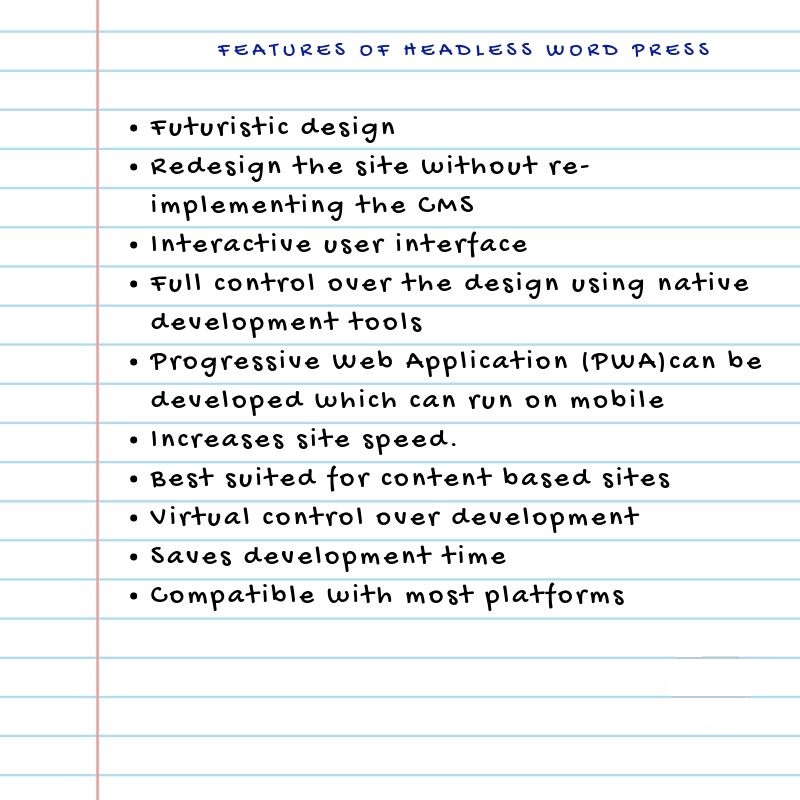 Database Security
Since the back-end is hidden from the public it is more secure to use Headless WordPress sites. Content of the site is accessible with the same interface.
Setbacks in using Headless WordPress
A racer car is unfit for the road and an Audi is does not do well on race tracks. Similarly, know your website application and choose your design accordingly. The following are the two major setbacks we face with Headless WordPress.
Speed
Security
Web Development
Overcoming Speed Issues
One major setback is the downtime when the site is loading. Most user dislikes sites which takes over 3 seconds to load. But we overcome this with the REST Api which boosts the speed when working on a decoupled WordPress site.
Overcoming Security Issues
One faces security issues while uploading WordPress core files manually. They also overcome this in programming and adding a few plugins for authorization.
Overcoming Web development Issues
Web development issues are common in WordPress, especially when someone tries to change themes since it changes the dashboard views and settings. Next is the programming, knowledge of java script is essential when using headless CMS.
Overcoming this issue is by using web development builders or just simple grandma days old technique, "hiring someone". Anyone naïve about java scripts will have a tough time in creating a headless CMS. One such famous builder is Divi Builder.
If you are planning to hire a web developer then, it is advised you read this blog.
Future of Headless CMS
Despite these few setbacks they are a success because their benefits like flexible stack integration, multiple channel publications, improved user experience. whenever a site requires deep integration and functionality the best option is a Headless WordPress. If you are planning extend the site in the future, then headless CMS are the best options.
Future is in Headless WordPress! Talk to our experts to find a best solution for your website. To host your own WordPress site, to add an XML sitemap to your site and to submit WordPress XML Sitemap to Google Search Console read the corresponding links.
Recommended Posts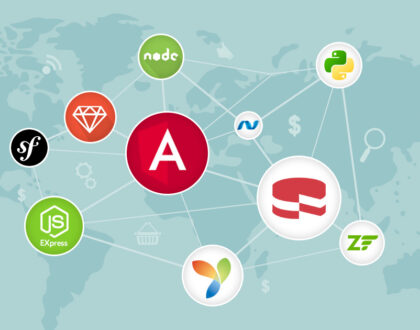 December 11, 2022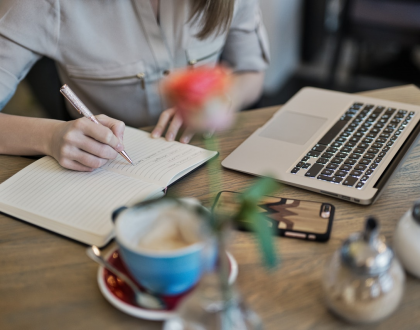 April 7, 2020